Our Oregon Coast Motel
The Whistling Winds is a restored 1930's Motor Coach Motel. This sixteen unit motel is nestled quietly in Lincoln City's residential neighborhood across street and 1/2 block to low beach access. Only 6 blocks to casino. On casino shuttle route.

Perfect for Everyone Visiting the Oregon Beach
For Reservations and Availability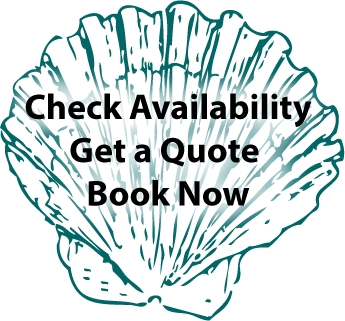 Call: 541-994-6155 or
866-384-9346

3264 NW Jetty Ave
Lincoln City, Oregon 97367
Or E-Mail us at whistlingwindsmotel@gmail.com

"Whistling Winds has a 24 hr cancellation policy. Your card will be charged the 1st nights stay if you do not call to cancel within 24 hrs of your reservation."  "Holidays may have higher rates and a minimum nights stay"


Prices Subject To Change
Enjoy the sound of the ocean waves in our fireplace suite. Vaulted ceilings, warm rich wood and walls, hand built river rock fireplace and fully equipped kitchen adorn this beautifully restored cottage.


Other units and cottages include:
3 jacuzzi rooms, 5 full kitchen rooms, 3 family units, 3 studios, 2 vintage studios and 3 vintage cottages. We are now No Smoking. For our friends who smoke there are covered porches and a covered tent area. No pets please. We now have WIFI available for our guests.

Quaint Motel Gives Glimpse Into Oregon Coast Treasures, Past
By Andre' Hagestedt

(Lincoln City, Oregon) - Sometimes, the greatest treasures come in small packages.

Such is the case of what is likely Lincoln City's best kept lodging secret:the small, unassuming but deliriously delicious Whistling Winds Motel, tucked away in a nicely hidden section of the town's sprawling beaches.

I stayed at this little beauty back in 1992 with an old girlfriend, and it was quaint then. Now, it's a stunningly refurbished motor coach inn with an interior done up in extravagant polished wood.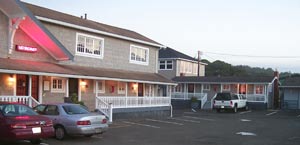 This trip itself was an engaging jaunt as well, full of startling discoveries in the middle of spring. As editor of this online magazine about the Oregon Coast, it's my job to run around all over the region and photograph this or that wonder, as well as write about it. Thus, I get to find things and see stuff most people don't always get to. Glowing sand, crazed bars, bonkers bachelor parties, exceptionally large amounts of sea foam and weird brown goo on the breakers are just a part of what I stumble onto as I research this beautiful little lodging. It's amazing what you'll find when you're not even really looking. Plus, researching this little beauty turned out to be quite an interesting trip through time.
The Whistling Winds is owned by Gene Scrutton and his family, which also owns A1 Beach Rentals in Lincoln City. Gene is a master remodeler of sorts, specializing in a certain breathtaking style of polished wood, gracefully curved ceilings and spectacular fireplaces made of rock. He's taken that approach to the motel, with seven of the 16 rooms redone in that gasp-inducing manner.
The wood is clear fir tongue-in-groove bead board, and those rock fireplaces are made from rocks coming from the beaches nearby. Colored glass windows grace the front doors of these units, and the whole place has a sense of beachy time warp about it.
Seven of the vacation rentals in A1's stable of homes have this interior as well.
"I grew up going to the coast a lot, and was influenced by the cottages of Arch Cape and Manzanita back then," Scrutton said. "I wanted to kind'a make it like you were walking into a beach cottage 60 years ago or 40 years ago."
He's succeeded. The refurbished units have a distinct flavor of another time, with all that wood around you. Historical photographs of various landmarks around Lincoln City are scattered about the walls - some of them long gone, some of them still here. Just staying here is a fascinating little trip down the past.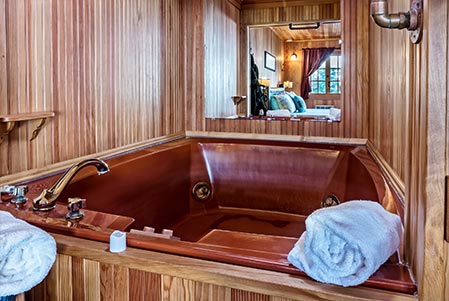 The Whistling Winds had has quite a past itself. It began in the late 1920's, but was added onto several times over the years. There are some hilarious and even seedy segments of its history. Before it was there, a lake filled that area of Lincoln City, called Wecoma Lake. There was a dairy farm nearby, and a boat rental business on the lake. "The boat rental owner and the dairy farm owner got into a big dispute, and the dairy farmer drained the lake on the guy."
When the inn was first built, it was called the Wecoma Inn. It was eventually changed to Whistling Winds because the main building gave off such an enormous howl as winds shot through the upper part of the building. Scrutton closed that off in recent years.
It was eventually owned by a lady of legendary cantankerous disposition, whose hardened attitude made her disliked by many, although she had a fiercely loyal and generous side to those who treated her well. She was forced to raise several children on her own while running the inn, and tried numerous times to sell it. She succeeded once, but was forced to come back and foreclose on the owners and run it on her own again.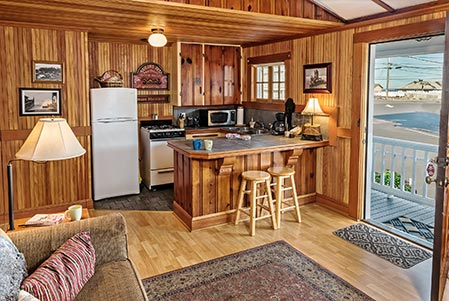 Scrutton couldn't remember her name. But the motel turned into a halfway house of sorts for criminals and undesirables of all kinds, rented out by the month or week to people who began ripping off the old lady in her later years, making her even more bitter.
Scrutton said his family found numerous hidden documents in the motel with information on this "underbelly" class of people that here long ago.
He started looking into buying the building around 2001. Then 9/11 happened, and the travel industry took a nosedive. In the meantime, the old lady mocked Scrutton's desire to buy it. He described her as an angry, unhappy person who often just sat on her porch with her dog, scowling at her surroundings and hating her life.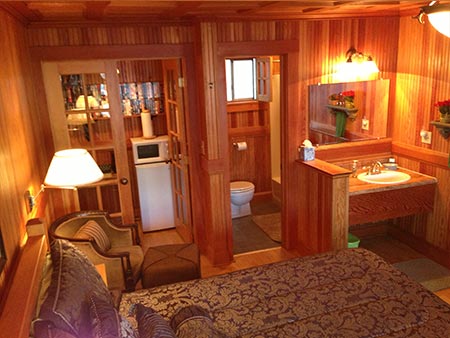 Scrutton finally bought it in 2003. "She was beside herself," Scrutton said. "You should've seen her. She actually jumped up and kicked her heels. She couldn't believe someone actually bought the place from her. She was so glad to be out of there."
Refurbishing the motel has been no easy task, made more difficult by the fact this area used to be a lake. The water levels in the soil are a constant pain, not to mention a city mistake a few years ago caused loads of runoff water to drain into Scrutton's property, causing serious flooding in the parking lot. Sometimes water would get a foot and a half high.
Before refurbishing the units, Scrutton has to jack up the buildings. Many of them are now higher than the others. Underneath, sump pumps constantly suck out water from the soil.
Whistling Winds Motel sits nearby a particularly beautiful stretch of Lincoln City's Beach. While most of the town's strands are often bustling with loads of people, this part - on the northern end of the city - tends to remain rather untouched. You'll find this section at the end of streets like NW 40th, 39th or 26th, which connect up with 101 not far from the gas station at the northern end of town, Pig 'N' Pancake, Walgreen's and so on.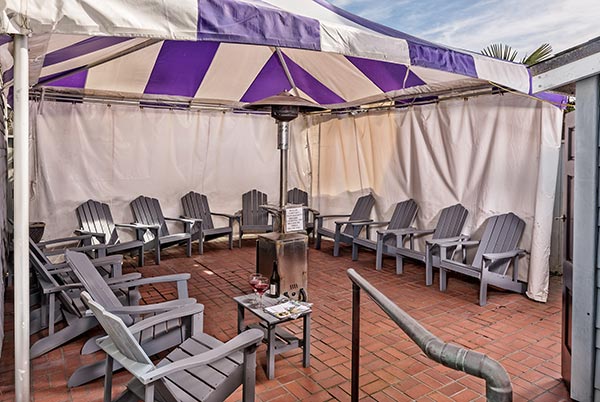 Here, Jetty Ave. skirts the edge of the beaches, with a smattering of accesses that tend to be more overlooked and less obvious. One in particular is about 100 yards from the motel, where I've never found more than a smattering of people, except maybe on seriously busy days. Usually, I'm the only person here.
In spring, this is especially true.
Around NW 34th, there's a beach spot called the Grace Hammond Access, coming complete with a small viewpoint and bike racks, along with a ramp that allows wheelchair access to the sand.
There's also another surprising access a bit south of here, at the bottom of NW 26th. A small, nicely kept parking lot is surrounded by an atmospheric wall, coming complete with bike racks. There are some concrete steps down to the beach, which is mostly a sandy spot with a few interesting rock structures scattered around.
All these seem to be bereft of crowds most of the year.
Impressions and Adventures
There are no phones at the Whistling Winds, which adds to the time travel vibe. You're definitely in another era here. The surroundings are soft and soothing, as well as have a quiet elegance.
Aside from a good helping of nearby beach accesses, Lincoln City is ripe for a number of adventures in nightlife or in nature.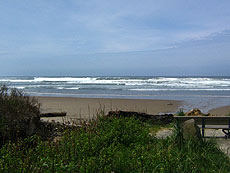 This particular spring, for some reason, there's a lot of sea foam all over the Oregon coast, including this part of Lincoln City. There's so much of it that it's like a giant washing machine has gone nuts someplace and overflowed with unimaginably large amounts of suds. It washes up on the beaches in great drifts, then blows around the beaches in this rather surreal display.
Also rather surreal is the growing emergence of a lot of brown goo on the waves. It's predominant on the north coast about this time: Cannon Beach and Seaside are experiencing tons of it. But there's a fair amount of it on the central coast as well, looking strange and causing people to point and puzzle over if it's pollution or what.
It's all a sign of a healthy ocean, however: the foam and brown foam are a good thing. It just means the phytoplankton out there is reproducing in large numbers, then getting churned up by the sea and mixed with the elements of air and wind, where it gets moved around to create this spectacular demonstration.
The brown foam leaves dark stains on the sand after it's sat there for a while. I notice this at night while bouncing around the beach access near the Whistling Winds.
All this phytoplankton may also mean "glowing sand," I think to myself. This is a somewhat rare and truly freaky phenomenon where the sand gives off tiny, faint greenish blue sparks when you walk on it - at night, of course. It's hard to see sometimes, and you won't know unless you know what you're looking for. Other times it's quite obvious and magnificent, with a decent amount of intensity that makes it look like small galaxies exploding briefly beneath your feet.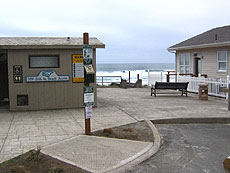 The cause is a form of bioluminescent phytoplankton called dinoflagelettes, which glow in much the same way as fireflies do.
Part of the reason I head to the beach at night is to test this. And sure enough, there are traces of the little glowing guys in the sand. They are extremely faint sparks, and only in certain parts of the wet sand. But they're there. I amuse myself for a half hour, scuffing my feet along the sand and exciting these things into sparking off.
The nighttime also brings out other interesting moments on this three-day trip around the central coast. Like the bars, for instance. I spend considerable time at the Lighthouse Pub, one of those treasured McMenamin's pubs with all the wacky graphics on the walls and the much-lauded microbrews. It's here where I make the acquaintance of one group of guys who look a little looped already. It turns out it's a bachelor party.
I also spent way too much time at Maxwell's, in midtown, singing myself silly at karaoke. This place I particularly love because my rather intensely exploratory sense of musical taste has led me to being an enormous fan of bands you often can't find much of in the U.S., groups that are pretty darned avant garde, or both. Certainly, this dictates you won't be able to find them on karaoke discs. But Maxwell's has my one of my fave bands of all time on their roster- Manic Street Preachers. You've gotta love that place.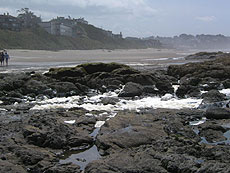 The Whistling Winds features Jacuzzi rooms, family rooms, vintage cottages and vintage studios.

Call:
541-994-6155 or
866-384-9346

3264 NW Jetty Ave Lincoln City, Oregon.